Exploring the hills, mountains and sierras, and discovering along the way, the hidden country and mountain life of rural Andalucía through walking.
Andalucían Walks is a local and community-focused business offering walking and hiking adventures and unique rural experiences in a still strongly traditional part of Andalucía, southern Spain. Andalucían Walks is run entirely by me, Javier. Foreigners and locals alike usually call me Javi. To know a little more about me, have a look at my About page.
On this page you will find a brief introduction to some of the more immediately relevant aspects of Andalucían Walks, such as:
Rambling and walking through the Spanish Mediterranean's hills and countryside will surprise and delight you. Most of the walking routes through the coastal foothills and mountain valleys offer spectacular views of the Mediterranean sea and the coastal towns and villages hugging the coastline in the distance. Walking will certainly get you working up a hearty appetite, and in the southern Spanish Mediterranean, good food and eating are never far away. In these parts of Andalucía, many old customs and traditions are still maintained and kept alive as there is still a strong sense of tradition amongst the countryside folk in these rural areas. Come walking with me, in the company of a knowledgeable and local guide, to discover some fascinating and enduring idiosyncrasies, beautiful places, and amazing experiences. The Sierras de Tejeda, Almijara y Alhama Natural Park is one of the least-explored but most dramatic and spectacular Natural Parks of Andalucía and a yet to be discovered, walking and hiking mecca.
Categories of Walking and Hiking Tours
I run a regular weekly scheduled programme of guided walking tours and hiking excursions into the hills and mountains of the Sierras de Tejeda, Almijara y Alhama Natural Park. I offer various categories of escorted walks and hikes of varying levels of difficulty, making my walks and hikes available to, and suitable for, persons of all ages and fitness levels. I offer leisurely strolls through the countryside, moderate walks and cross-country hikes, hikes in the foothills of the sierras, challenging hikes in the high mountains, adventure hikes and treks along ridges and through high mountain passes, and multi-day treks across many ranges and sierras of the Park. I also plan and guide customised walking routes for "adventure walkers" who are looking for that extra special adventure in the mountains. Here is a summary of my guided walking and hiking tours:
Easy Walks and Rambles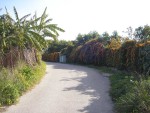 Easy, gentle walks along the coastal plains and low lying areas around Nerja and Maro. These walks have a strong emphasis on the leisurely pursuits of the countryside, like observing wildflowers, old and interesting landmarks, and just letting the world go by. More Info
Challenging Hikes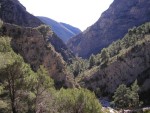 Long, hard, full-day hikes through steep, rough and difficult ground into isolated mountain territory. Reaching further and higher into the mountains, these hikes are for seasoned hill and mountain walkers with an appetite for a challenge and adventure.
More Info
Moderate Walks and Hikes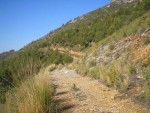 Lovely, invigorating walks and hikes through hilly and generally exciting terrain. These walks typically venture through the verdant foothills and the coastal mountain valleys of the sierras, along dry gorge bottoms and shady forest trails. These walks are a good prelude to the challenging hikes.
More Info
More walks coming soon!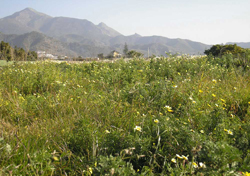 More beautiful walks and hikes with spectacular scenery coming soon! More beautiful walks and hikes with spectacular scenery coming soon! More beautiful walks and hikes with spectacular scenery coming soon!
My approach to guided walking and hiking
My approach to accompanying you into the hills and mountains is extremely flexible: just choose a walk from one of the walking/hiking categories that is compatible with your fitness level and abilities, and come and join me. And it really makes no difference to me whatsoever whether or not you might be the only person coming out with me for a walk on a particular day or you form part of group of friendly and enthusiastic walkers. I quite enjoy and often look forward to the quiet company and more personal experience that being with just one or two people brings, as much as I look forward to the often chaotic excitement and challenge of leading large groups of energetic, funny and interesting people!
I can handle a wide range of walkers' profiles and their requirements, from individual walkers to large travelling groups and walking clubs. The types of situations that I most often accommodate are, but not limited to:
individual walkers and couples, on a spontaneous basis, interested in any of the regular scheduled walks or hikes (see walking calendar)
small and large groups of walkers (up to 15 people), on a spontaneous basis, interested in any of the regular scheduled walks or hikes (see walking calendar)
exclusive private bookings (charter), private family outings, exclusive and customised routes for individuals, couples, small and large groups for either full or half day walking and hiking tours and excursions
exclusive and customised walking and hiking day tours for rambling groups and walking clubs
exclusive and customised walking and hiking multi-day treks for rambling groups and walking clubs
Description and location of the Sierras de Tejeda, Almijara y Alhama Natural Park
The Natural Park is fringed along its perimeter by many towns and villages, with so much to see and do both within the Park boundaries and outside of it. However, what makes the experience of walking here even more exciting and special is the fact that within the Park's boundaries there are no inhabited houses – it's all completely natural and wild! The feeling that you get of knowing that the farther you delve into the mountain wilderness of the Natural Park, the more isolated and remote it becomes, is truly exciting and enticing. It truly is an amazing place.
The Sierras de Tejeda, Almijara y Alhama Natural Park is replete with dramatic landscapes as a consequence of its geology, with common features such as spectacular, rugged mountains and chiseled peaks; dramatic, fragile, limestone crags; and fast running streams running through deep gorges and mountain valleys. The Park also boasts a riot of flora and fauna, the most prominent being the iconic Iberian ibex; with various species of eagles, falcons and kestrels; wild boar; deer; woodpeckers; vultures; red squirrels; chameleons; badgers; foxes; owls; wild mountain cats; genets; over 40 species of wild orchids; a bewildering array of wildflowers; forests of pines, oaks and yews; and hillsides of Mediterranean aromatic plants, just to mention a few!
Click on the maps below to view them in more detail.
As ex-pat and local resident of Nerja, Jim Ryan, eloquently stated,
To put things into perspective, there are more than fifty mountains over 914m (3000 feet) (equivalent to the Scottish Munros) in an area about the size of the Isle of Skye. The highest mountain in the Park is over 2000m, and a large number are higher than Ben Nevis. It is worth considering also that, in the UK, on any given day, a climb to any worthy summit will usually mean that there is a 70 – 80% chance that the summit will be enveloped in cloud. In southern Andalucia, however, one has a 90% chance of summiting on a perfectly clear day at any given time of the year.
Fascinating towns and villages strategically positioned for high adventure
In the south-eastern region of the Park where Andalucian Walks is located, there are four localities that are closely situated to one another that I use as starting points for my walks.
Nerja
By far the largest town in the area is Nerja, a somewhat sophisticated but modest tourist resort by Spanish standards. Located about 60 kilometres east of Málaga on the Mediterranean coast, it is far removed from the din of the capital city, Málaga, and is literally the last town on the road before crossing the provincial border into Granada. Nerja has an air of discreet sophistication; its pleasant and modest urban presence will not addle your senses, and its everyday vivaciousness should easily keep you amused and entertained. Nerja is well serviced and has a very good selection of accommodation types and is an excellent choice for positioning oneself for some great walking in the mountains.
Frigiliana
Although Nerja is my base town, many of my walks and hikes explore the hills and mountains around the hugely likable, but much smaller, traditional, rural village of Frigiliana. Frigiliana is removed from the urban excitement of Nerja, but has its own peculiar and cute kind of hustle and bustle. It's one of those few places that will charm your senses and warm your heart, leaving you feeling content with life – and with walking here too!
Maro
There are also a number of walking routes and hiking itineraries that I regularly do in the area around this quaint little coastal village called Maro. Maro sits wedged between the mountains and a cliff edge, and appears to be incessantly resisting the efforts of the mountains to push it into the sea. It's a small, humble and very quiet and charming place. The coastal strip east of Maro is a Natural Park in its own right and offers some interesting coastal walking and an excellent opportunity to spot the iconic Iberian ibex.
Acebuchal
I've saved the best for last. The unique and exceptional mountain hamlet of Acebuchal is by far the most interesting and intriguing of the four localities. I love this little hamlet. It has a fascinatingly turbulent history, but provides one of the best natural gateways into the Natural Park. A unique place with an air of aloof indifference towards the goings on of the outside, modern world. If you come here, you may find that you soon will begin to adopt this attitude too.
All together, this unusual little group of towns, villages and hamlets form a close and interconnected community in the southern corner of the Park and are well communicated with each other. The hamlet of Acebuchal, for example, depends to a greater or lesser degree on Frigiliana, much in the same way that Frigiliana depends on Nerja for much of its own requirements. Nevertheless, each of the localities has its very own, distinct feel and unique character, and they each offer excellent starting points for a multitude of walks in the area.
The benefits of choosing Nerja and Frigiliana as your base town for exploring the Natural Park

Nerja is without doubt, the best-serviced and most sophisticated resort town east of the provincial capital, Málaga. The southern Mediterranean coast of Spain is in an excellent location for winter and all-year round walking and hiking. I consider Nerja and Frigiliana to be the best bases from which to explore the Natural Park for four main reasons:
Nerja and Frigiliana are located in the depths of the Axarquía, a strongly rural and traditionally agricultural region, keeping it somewhat geographically removed and isolated from the influences of modernity of the bigger cities

Nerja is strikingly positioned on a narrow strip of elevated coastal lowland, tightly sandwiched between towering peaks of over 1500 metres, and the warm, pristine sandy beaches of the Mediterranean coast, thus giving it the enviable recognition of being in a dramatic and spectacular location
The excellent Mediterranean climate, with mild diurnal and nocturnal winter temperatures and almost guaranteed winter sunshine, make Nerja and Frigiliana, and its outlying cohorts, a prime winter walking destination and possibly the best winter walking destination in all of Europe
Nerja on its own is a first-class tourist resort, having an extensive range of quality urban and rural accommodation, not to mention a complete and comprehensive range of services and activities to offer the discerning travelling adventurer.